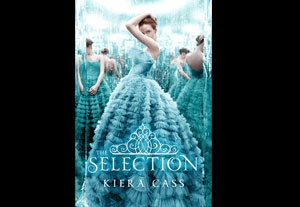 The Selection - by Kiera Cass
Basis of the book:
America Singer wants a normal life and to marry her boyfriend, Aspen. Sadly that isn't how things work, nor is it that easy. Everyone is classified by a number, that number determines their jobs, pay, house, family size, EVERYTHING. Aspen is a lower caste (ranking) than America so that makes everything difficult and very secretive. It is certainly not wise for a female to marry down a class, she must set her sites higher.
Prince Maxon wants to find love but has a hard time doing so because of who he is and the state of the nation. That is where The Selection comes in. America is hesitant because she doesn't want to try for the affection of the Prince when she has Aspen, but does anyways since she was pushed to sign up by Aspen and her mom. That is when America's world is turned upside down. She starts to see things with a fresh pair of eyes and an open mind, wondering if she could in fact be princess one day. Living life as a higher class means she takes nothing for granted when others do. Plus, is she willing to risk her heart to someone new?
How does it work? Think of Cinderella when the Prince sends out letters to all eligible ladies in the land. Girls between a certain age are encouraged to enter by filling out a form and having their picture taken. A committee selects 35 random girls to participate for the Prince's hand in marriage. Now think of The Bachelor, where all girls are battling to win Maxon's affections, and the crown. Things get down right cut throat at times.
My overall thoughts:
Doesn't that cover look like a great party? I want to go to that party! I would find another pose but regardless, looks like a great time! But after I started this book I realized that I probably don't want to be at this party.... Ever.
I was hesitant about the Selection book/series. Maybe it is the look of the girl sniffing her armpit (what is that pose about??) or that fact that most critics compared this to The Hunger Games (stop doing that!), but in the end I was HOOKED. I couldn't get enough of this book. Will her heart stay with Aspen? Could she possibly love Maxon and become princess? This was NOT the sappy love story I feared it would be (Matched series, anyone?). I truly wanted to find out what would happen. I was one of the better reads I have found this year and so happy I picked up the series (yes, I wait until the entire series comes out before reading/buying...).
I give this book 3.5 stars out of 5, it is such an enjoyable read. Can't wait to see what happens in the America/Aspen/Maxon love triangle!